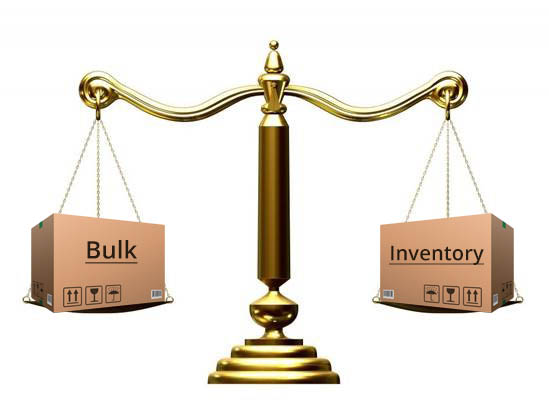 Bulk Buy vs. Inventory within a Company Store
The founding principle of iCoStore was to run online company stores with little or no inventory.
In most cases, inventory isn't necessary, however many competitors will tell you it is the only way to run your company store. The reason is, they don't have Just-In-Time production capabilities in-house, so the only way they can run company stores is to inventory everything. That is just not the case today.
Before the internet (1990's), it was necessary to stock inventory for company stores, because company catalogs were printed, items didn't change for a year and decoration was slow. Many companies still believe that 100% inventory is the best way to run programs, even in the age of the internet. Inventory is a security blanket for them and a sneaky way to retain customers. In many cases, companies can't afford to change vendors because they must purchase all of their inventory before they part ways. Many can't afford to leave, so it has become a great way for mediocre companies to lock in clients long term.
Here at iCoStore, we decorate all apparel on demand, so there is no inventory, yet we offer the largest selection of styles, colors, sizes and logo locations. However, most promotional products (trinkets as some people call them), cannot be produced on demand, with no minimums, so we need to make a choice between inventory and Bulk Buy. In order to decide which works best for a program, we need to understand who the buyers are in a program.
Inventory is defined as promotional products that are pre-decorated, purchased in bulk and stocked in our warehouse. They can be offered on the store with low or no minimums. Examples of these items are pens, golf balls, umbrellas, drinkware and other promotional products that have a printed logo.
Bulk Buy items can be the same items as inventory items, however we do NOT stock them. They are on the store and offered with the factory minimum; 72 pens, 48 umbrellas, 12 dozen golf balls, etc. When an order is placed for a bulk buy item, we place the order with the factory and they are decorated and drop shipped directly to the buyer. It is a great alternative to inventory if your buyer demographics work.
How do you decide which works for you?
The determining factor is to understand what your buyers are buying for, personal purchases or events.
INVENTORY: If your company store is for employees and customers to make personal purchases, then you will want to have promotional items in inventory, so they can order one piece. The advantages to inventory are:
Inventory items can be shipped immediately for events and rushes
There are no minimums quantities for these items on the store
BULK BUY: If your company store has buyers with budgets who purchase large quantities of items for events or groups, this is the best solution. The advantages to bulk buy are:
Able to offer a large selection of promotional items with zero financial liability
Able to offer multiple logo options for each item and they will be decorated as ordered
Pricing is better, because there is no double shipping from the factory to iCoStore to the buyer.
Our company stores accommodate both models for promotional products and they can even be combined within the same program. We have plenty of warehouse space and most programs have a few items in inventory. Our goal is to keep inventory and your financial liability to a minimum, while still offering the right mix of products in your online company store.
We're just a call away
Launch your online company store in weeks–not months.
480.621.4650
Contact Us