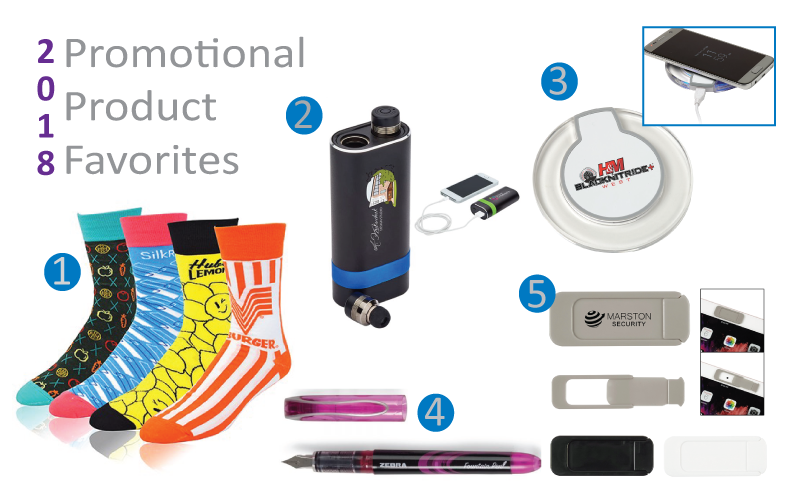 Promo Products We Love for 2018
Every January we hop on a plane and venture to Las Vegas for our annual industry trade show. This year was no exception! We went, we saw, and we conquered, trekking about 8 miles per day for 3 days in search of new, cool promotional items. This show is the perfect opportunity for the iCoStore team to "shop" on behalf of all our clients. We found some amazing items for 2018 that we are very eager to share with you! So, without further ado, here are our favorite finds:
1. Custom Socks
What's something that everyone can always use, get warmth from and look stylish wearing? Socks! Statement socks are one of the hottest trends right now. Once known as a boring but useful gift, this accessory is THE giveaway companies should consider branding. Don't fret! We can help you come up with a unique design of your own.
2. Powerbank & Bluetooth Earbuds
You can never go wrong with multi-functional products! This is a 2000 mAh powerbank AND a set of Bluetooth rechargeable earbuds…all in one! The accent band is also the perfect pop of color to help bring your branding and logo together.
3. Charging Pads
Every year there is THE promo product of year. The product everyone talks about, needs to have and requests. Last year was definitely the year of the fidget spinner. Aside from custom socks, we're think this year it'll be wireless charging pads. They are the perfect desk accessory to display your brand.
4. Zebra Fountain Pen
We have thousands of different pen options we can provide but there's only a handful we would recommend. So, we were pretty excited when we came across an affordable fountain pen. Not only is it unique but it's a Zebra pen so you know it writes well. Today is the day to start upping your pen game!
5. Push Privacy Camera Blocker
Cyber security is more on the radar now than ever. Let's face it, after we all saw a picture of Mark Zuckerberg having his laptop's camera blocked, we all knew we should probably jump on the bandwagon. This compact camera blocker is the best version we've found in our industry. You can slide the little rectangle over to cover your camera when not using and then slide it back to the open window when you do want to use it. It's a super affordable way to make sure your company's name is in your audience's face.
We're just a call away
Launch your online company store in weeks–not months.
480.621.4650
Contact Us