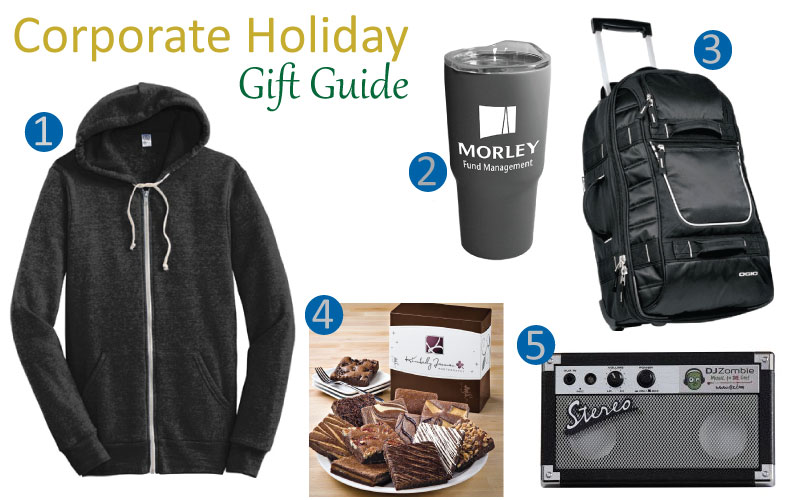 Holiday Gift Ideas
Holiday gifts…we know, it's not even Halloween yet! But in the promotional product industry, we highly recommend you start planning your employee holiday gifts now. The goal should be to finalize your holiday order by the end of October.
Over the years, we've learned that factories generally have a longer production time during this season, there is often transit delay due to weather and inventory on hot ticket items go very quickly leaving very limited availability. Therefore, it's good to start thinking about what you'd like to give to your employees or clients now.
But don't worry, we have your back! Here are some of our favorite holiday gifts that you can decorate with your logo:
1. Alternative Hoodie
Branded apparel is a gift that keeps on giving especially when you give them something they will want to wear like the Alternative Rocky hoodie. It is an iCoStore office favorite! We are obsessed with how soft it is and the slim fit silhouette really makes it fashionable. There is also a ladies' companion available and it is called 'Adrian' which is an awesome homage to the movie 'Rocky'! This is one hoodie your employees will not just leave hanging on their chair, it'll become their go to hoodie.
2. 20oz Halcyon Tumbler
It seems that in the past 2 years, drinkware has become the must have accessory for all. With retail brands like Yeti and Swell offering drinkware that keeps your liquids hot or cold for extended periods of time, the demand for branded drinkware with the same technology was inevitable. This 20oz Halcyon Tumbler keeps your liquid hot for 12 hours and cold for 24 hours. It also has a nice rubberized soft-touch feel and is available in several colors.
3. Ogio Pull Through Travel Bag
Holiday travel can go much smoother with the perfect luggage. Why not gift something that will not only be useful but very much appreciated like a wheeled overnight travel bag? This Ogio bag is specifically sized to fit overhead bins and it has plenty of room for all travel essentials. As an additional bonus, your logo will also be seen wherever the recipients travel which is a great way to represent your company.
4. Fairytale Brownies Custom Dozen Gift Box
Every year around the holidays we receive food gifts from some of our vendors and everyone around the office gets super excited! You just can't go wrong with food as a gift especially when you send something as delicious as Fairy Tale brownies. Not only are they local to us (woohoo Arizona!) but the premium ingredients really make their treats unforgettable.
5. Amp It Up Bluetooth Speaker
Tech gifts are always much appreciated and will be used. This speaker not only sounds great but has that cool vintage vibe. Perfect for recipients to keep in their office and is also decorative enough to look great in someone's home.
Make your holiday gifts amazing!
We're just a call away
Launch your online company store in weeks–not months.
480.621.4650
Contact Us