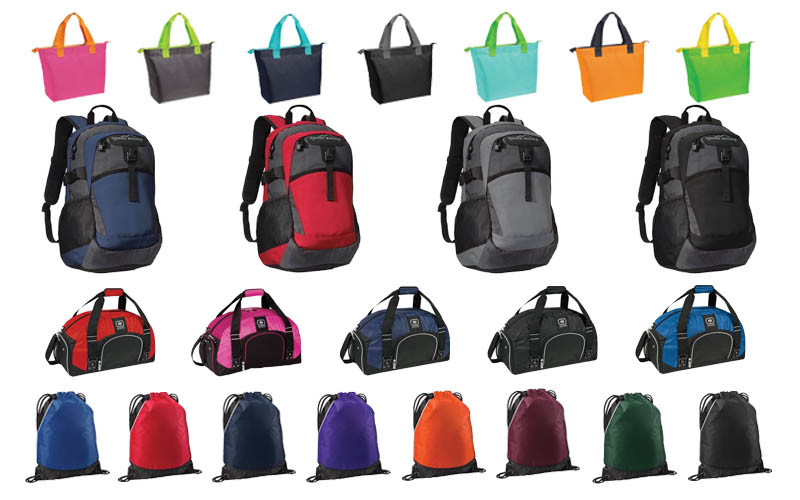 4 Types of Bags You Must Have in Your Program
I love bags! You may go as far to say that I have an obsession with bags. Grocery bags, gift bags, tote bags, duffel bags, backpacks – you name it, I have it. Well, I probably have at least 6 of them, if not more. And I use every single one of them.
Promotional products are great (there is a reason it's an $18 billion plus industry), but a promotional product that someone will keep and use over and over again is even better. A company name or logo being 'toted' around every day is an inexpensive advertisement. Plus, your audience will remember you every time they pull out that reusable grocery tote.
That's why this month iCoStore is featuring 4 different bags – one for every occasion!
Here's what I love about each:
1.Zippered Tote
I'll start with a zippered tote because it's the most versatile. For me, I get the most use out of a tote like this. A weekend trip, the grocery store, an overly packed lunch (don't judge, I eat a lot), the beach; as you can see, the list can go on and on. Some totes keep it simple with one main compartment, where as others have an outside pocket, inside pocket, a spot for your water bottle, zippers, insulation… you see where I'm going with this. And although so many features may make it difficult to choose, I recommend offering 1 of each on your company store. (See paragraph 1 for my explanation on bag obsessions.) Including a variety of bags with different features on your program allows your audience to have a tote option for every occasion.
2.Drawstring Bags
You just can't go wrong. They range from budget friendly to higher end brand name options. You guessed it, I own one of each! Here are some suggestions on how you can use drawstring bags for your company:
Event giveaways: Each attendee receives a free drawstring with your logo on it. This is a great option for something that has a large imprint area and is usually around $1-$2/bag.
Creating kits: Print a tee shirt, water bottle, and sunglasses to throw in the drawstring for an awesome gift or new hire kit!
Team outings: Using a drawstring bag for a team outing is just another way to uniform your group. iCoStore went to a spring training game last year and all the employees received a baseball themed drawstring backpack to wear!
3.Backpacks
Bags are like shoes, you can't just have one pair – you need a variety. But if you are going to choose just one type of bag, backpacks are the way to go! Backpacks are like a hybrid of totes and drawstrings. You still get pockets, zippered compartments and even a spot for your water bottle but with a backpack, you get the added bonus of more space and added comfortablitly when wearing it. Whether it's used for travel, school or work – a backpack makes for a great gift at any budget.
4.Duffels
Lastly, we have duffels. I went to Google for this one and learned something about duffels. "The name comes from Duffel, a town in Belgium where the thick cloth used to make the bag originated. More recently, a duffel bag typically refers to the specific style of bag, though the phrase may also be used to refer to any large generic holdall or a bag made of thick fabric." Thanks Wikipedia!
When I think of duffels, I think of using it for sports. I own maybe 3 and I use them for travel, mostly, because I'm not very good at sports. But duffel bags have evolved over the years and are now a top contender for travel, the gym, or even the office!
We're just a call away
Launch your online company store in weeks–not months.
480.621.4650
Contact Us