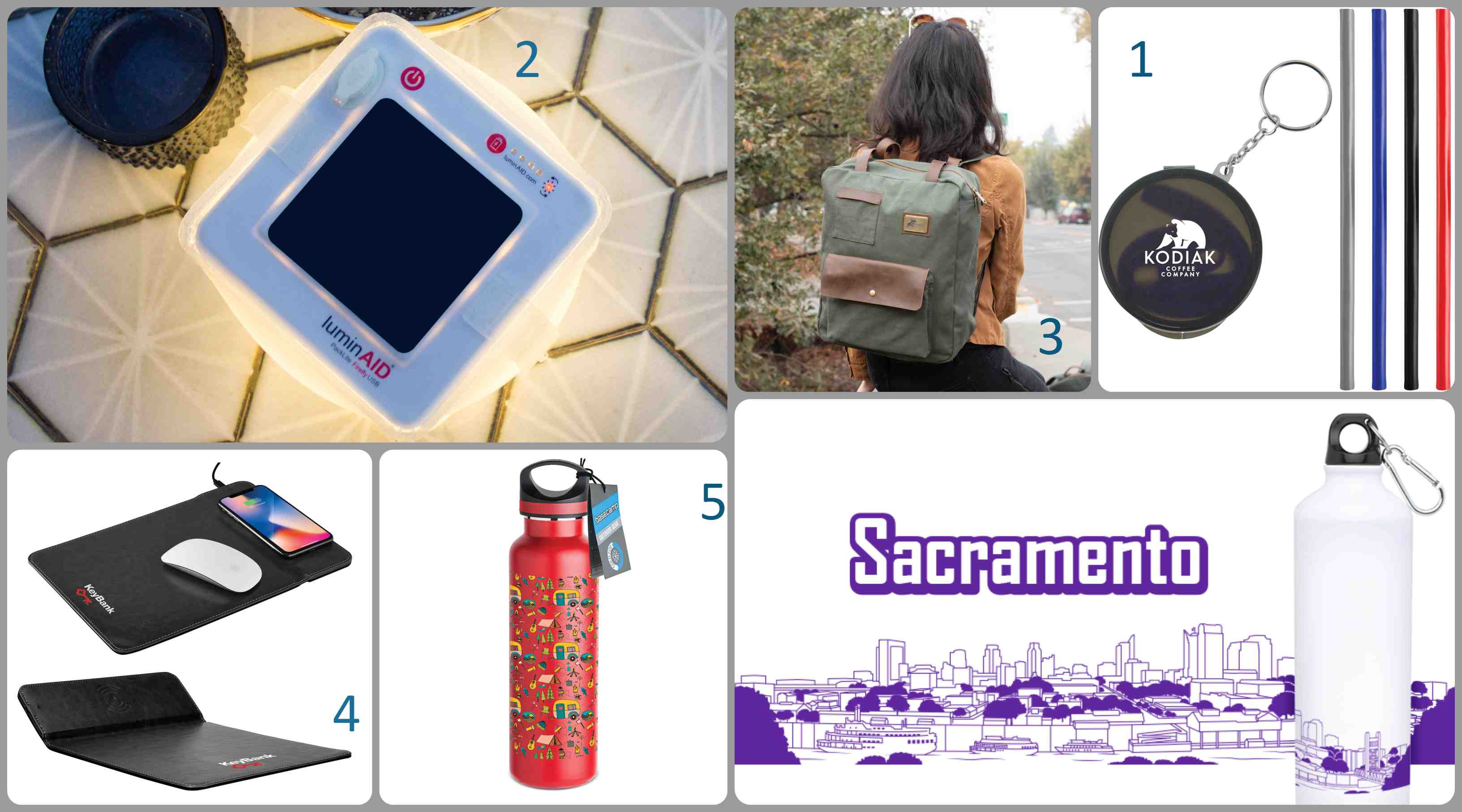 2019 Promotional Product Trends
5 Ideas to Consider This Year
Goodbye 2018, hello 2019! We started this year off attending our biggest industry trade show. While custom socks still seem to be a continuing trend for this year, we noticed more of a focus on sustainability, cause marketing, retail inspired products and practical merchandise. Here are the top 5 favorite promotional product finds for this year:
Reusable Silicone Straw Keychain– More cities and companies are now banning plastic straws which is why reusable straws will become more in demand. There are many options available, but this straw comes with its own keychain carrying case which allows you to never forget your straw at home. Plus, because it is made of food-grade silicone, it is flexible and durable.
LuminAID PackLite USB Solar Lantern– You may have seen this cool lantern on Shark Tank, but did you know that you can now add your company's logo to it? This collapsible lantern packs flat and inflates into a lightweight, collapsible lantern. It can be charged by it's solar panel or USB but batteries are not required. The best part about this product is that these are used by nonprofits in 100+ counties through the Give Light, Get light program.
Finley Mill Turlee Tote– This tote is the epitome of style and function. Not only is a tote but it converts into a backpack. The durable design makes it a perfect bag for the office and an easy transition to travel. The decorative brass plate is where you can etch your logo, giving your brand a subtle retail look.
Wireless Charging Mousepad with Phone Stand- We mentioned wireless charging pads last year and this year we are seeing more unique options with this technology. From wireless charging power banks and speakers to even notebooks! However, we love the multi functionality of this Wireless Charging Mousepad w/ Phone Stand. It is a great desk piece that combines a simple, useful object with a modern, practical function.
Unique decoration on drinkware- This is a trend that we've seen over the last year, but it is becoming more popular and affordable. Why have an ordinary bottle when you can take it a step further with creative decoration options. We can mix a tonal print with a laser engraved logo, do a full color process wrap, add variable data, etc. For your next conference, consider adding the skyline of the conference location as a full wrap and your company's logo. This will be a memorable piece for attendees to take home on a useful product.
We have a bunch of other favorite products from the show, but for the sake of not turning this blog into a 5-page list, we thought we'd keep it brief. If you want to see more new product ideas or need design help, contact us! We're only a call or email away.
We're just a call away
Launch your online company store in weeks–not months.
480.621.4650
Contact Us